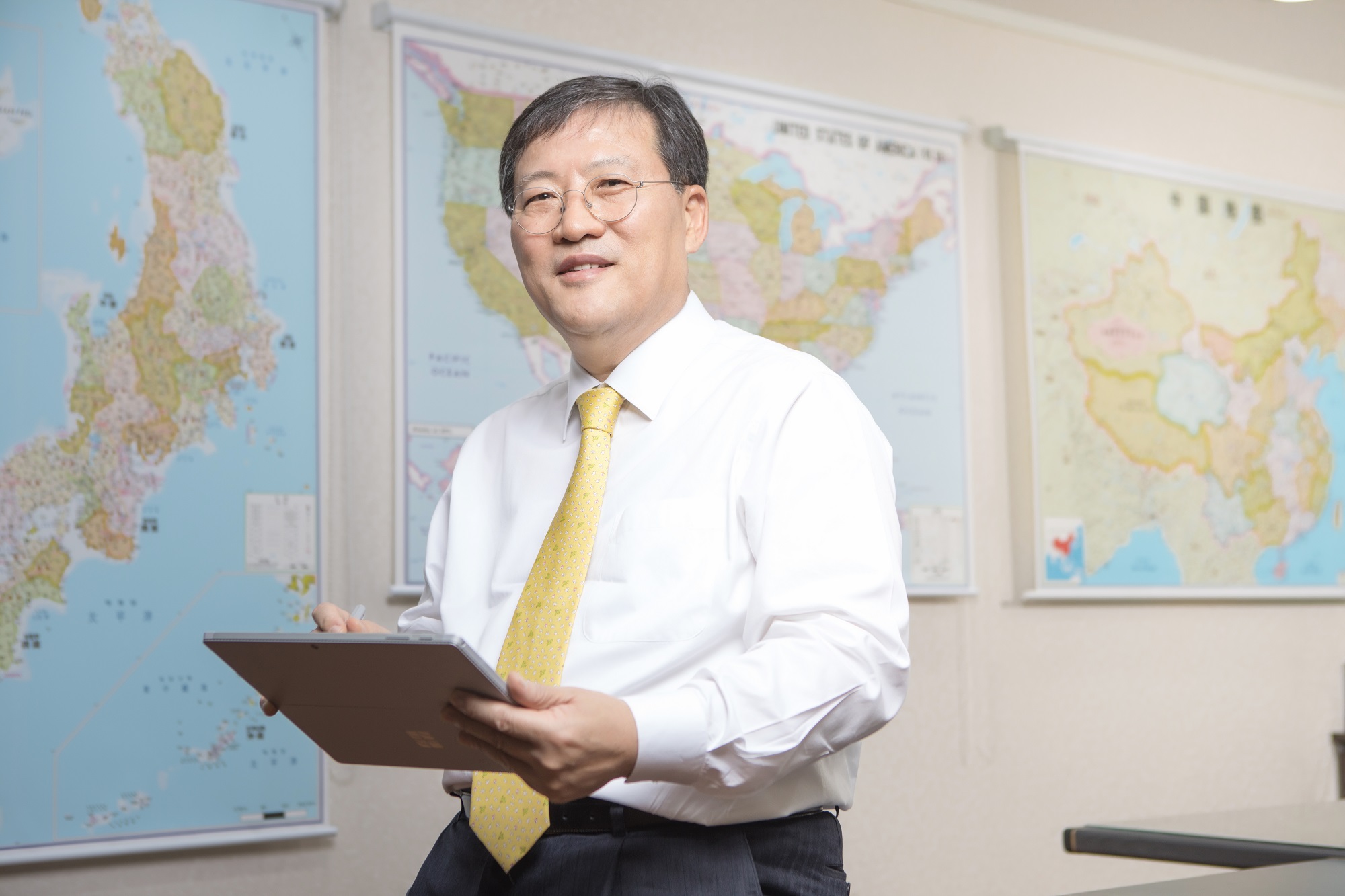 Dear Respected Members of Pulmuone,
The year of 2020 has dawned upon us. In this year that marks the beginning of the 2020 decade, it is my sincere hope that our company take the next great leap forward to realize our vision for the new year of 2020.
Last year, despite the straitened economic situation with prolonged low-growth, the wage increases and the raw material price hike, Pulmuone has made significant and sustainable progress, posting total sales of KRW 2.29 trillion, 6.2% higher than the year before.
Pulmuone is proud to announce the "Global New DP5," a new corporate vision to deliver on our goal of becoming the global No.1 LOHAS company. While the old vision "Global DP5" was mainly focused on creating economic values, the new vision defines the achievement of economic, social and environmental values as the main corporate social responsibility of Pulmuone.
The new vision indicates the five main long-term corporate management goals for the next three years:
First, Pulmuone will achieve the total sales of KRW 3 trillion to pave the way for sustainable corporate management.
Second, Pulmuone will reduce the occupational accident rate by 40% by 2022 from the level of the previous year to contribute to the creation of social values.
Third, Pulmuone will receive the B Corporation Certification which is given to businesses that meet the highest standards of verified social and environmental performance, public transparency, and legal accountability to balance profit and purpose.
Fourth, Pulmuone will extend its application of animal welfare principles by 200% by 2022 from the level of the previous year to make its way for social and environmental value creation.
Finally, Pulmuone will introduce recyclable packaging to its entire lineup to take the lead in providing values for humanity and the environment.
Dear Valued Members of Pulmuone,
This is the 3rd year Pulmuone has adopted professional corporate management system.
Amid the dynamic developments in the market, NFB(Natural Food and Beverage)Region BU and HLS(Health and Living Solution)Region BU - the 2 main pillars of Pulmuone's business – have actively responded to rapid changes and drove a new engine of growth, securing a competitive edge and profitability of the company.
As Home Meal Replacement (HMR) products gain popularity in both domestic and global markets with changes in eating habits and the rise in the number of single person households, Pulmuone launched products including thin wrapper dumplings, frozen rice meals and frozen pizzas to successfully enter the frozen HMR category. With a number of positive market responses to its products in different countries – frozen corn dogs in Japan, pastas in China and stir-fry noodles in the US – Pulmuone has established a new foundation for its global HMR business.
Meanwhile, with tofu and other plant-based protein products coming into limelight in the global market and K-foods gaining popularity, Pulmuone has seized such opportunities and harnessed its capabilities to become the market leader of tofu and kimchi in the US.
Although the global economic downturn and prolonged domestic low growth are expected to continue in 2020, this is a crucial year for Pulmuone to make a turnaround towards profitability. By generating profits through sustainable sales in domestic market and reducing aggregate deficit in overseas market, Pulmuone will make its utmost efforts in driving "profitable growth."
1)<NFB(Natural Food and Beverage)Region BU> encompasses 2 Market Business Units (MBUs) – Pulmuone Fresh Foods and Beverage MBU and Pulmuone Food and Culture MBU – and 7 Subordination Business Units (SBUs).
<Pulmuone Fresh Foods and Beverage MBU>, an organization for manufacturing and marketing of food and beverage, led sizable growth in the Fresh Ready Meal category with the performance of thin wrapper dumplings, extended Pulmuone's market leadership in tofu, non-fried noodle and egg categories, and strengthened its position in the frozen rice meal category, posting total sales of KRW 845.4 billion.
This year, from our One Pulmuone perspective, we will revise designs and product names of our brands, leverage our strong performance in Frozen Fresh Ready Meal category with dumplings into further success in frozen rice meals and pizzas, and maintain the market leadership in Chilled Fresh Ready Meal category with our fresh-and-chunky-themed noodles and sauces to lay the foundation for Pulmuone's Eumseong Plant Master Plan. Pulmuone also plans to add Plant Protein Meal products to our tofu lineup and expand the kimchi export business, which we take on as our mission of introducing Korean food culture around the world, on a national and international level.
<Foodmerce SBU> has surpassed the KRW 500 billion total sales mark for the first time in the SBU's history with its performance recovery in school lunch catering business driven by menu development and aggressive marketing. From next year, Pulmuone will solidify the Pulmuone Foodmerce SBU's strong position in the market with improved quality and competitive advantages of school lunch and kids food products, and extend the lineup of senior foods and the number of senior food stores to lay the basis for the Health & Care business. We will also create new product categories using our global network in plant protein foods to consolidate our recent growth.
<Pulmuone Danone SBU>, despite the slow economy and the capacity limitation of Muju Plant, saw a 12% growth in total sales year-on-year and exceeded the profit goals by successful launching of new products and proactive marketing. With a double-digit growth in total sales and new product manufacturing lines, Pulmuone Danone SBU is ready to expand its business to the plant-based category and capture the opportunities for new growth.
<NA(North America) SBU> posted a 14% growth in total sales over the last year with positive performance of Plant Based Protein products and Asian noodle kits, and its operating profit increased by 33% at the same period with investment on tofu manufacturing lines and logistics cost reduction through sales and operation planning. For the sustainable growth and profitability improvement, North America SBU will secure its strong position in the tofu market, minimize profit loss in Pulmuone's Gilroy Plant through leveraging the rising popularity of Asian food, expand at Costco, reduce logistics cost through supply chain optimization, conduct aggressive marketing strategies for Korean residents and perform more marketing activities towards key target consumers. Our goal for the year of 2020 is to break even for more than 1 month.
<Japan SBU> newly launched Fresh Ready Meal and other global products in 2019 and received positive response from the Japanese market. In the new year, it will extend sales and improve the profits by investing in manufacturing and logistics facilities to maintain its competitive edge in tofu and fried tofu markets, further strengthening its market position with focus on fried tofu products and launching new businesses with its Fresh Ready Meal and other global products.
<China SBU> saw a positive progress in perspectives of both product and channel in 2019, making sustainable growth in sales and improvements in profit. The SBU is experiencing rapid growth with pastas and soybean products, its flagship products, and exceeded its goals for O2O channels including Alibaba's Hema. In 2020, China SBU is expected to drive profitable growth and become the first overseas business of Pulmuone to earn an operating profit. The master plan for the SBU's long-term growth includes the construction of the 2nd factory building and installation of packaged tofu and pasta product lines in the Beijing Plant.
Pulmuone also set up a local entity in Hanoi, Vietnam and plans to expand its business by introducing its flagship products to the market and enter local retail chains.
<FDD(Fresh Daily Delivery) SBU> proved the potential for growth by improving its profitability focused on healthy natural beverage and diversifying business channels through realignment of sales departments. In 2020, Pulmuone will consolidate the SBU's market position by further developing premium line focused on customized fresh juice and digitalizing direct sales channels to satisfy the taste and serve the convenience of our 300 thousand daily customers.
In addition, it will also launch specialized products for the customers of B2B and other sales channels to create new growth opportunities.
<ORGA Whole food SBU>, a retail brand of Pulmuone, underwent a business structure reshuffle to build the foundation for improved profitability. As the nation's first retailer to sell sustainable products such as Agriculture Stewardship Council (ASC)-certified seafood, ORGA Wholefoods SBU is ready to expand sustainable product lineup and move on to online to offline (O2O) business. To respond to the rapidly changing industry, the SBU is transforming into a new business model focused on O2O platform with an aim to solidify its strong position as a "LOHAS Fresh Market" through its unique product lineup of Fresh Ready Meal and extra fresh food and customized service strategies.
<Food and Culture MBU>, a food service business of Pulmuone, saw its net profit margin shrink in 2019, but it built a foundation for improved profitability by winning contracts of designed foods for conglomerates and hospitals and renewing and restructuring contracts for concession foods with airports and hotels. In addition, by signing new deals with the medium-large size service stations, the MBU is set for a leap forward in the market. In 2020, it will realize profitable growth by maintaining contracts with major partners, secure its competitive advantages with LOHAS-themed specialized services for each channel, and launch new businesses focused on Connect & Develop (C&D) and digital transformation.
2)<HLS(Health and Living Solution)Region BU> encompasses 2 SBUs – LDS(LOHAS Direct Sale) SBU and Pulmuone LOHAS (China) SBU.
<LDS(LOHAS Direct Sale)SBU> made progress with its flagship health functional food products and actively launched a new lineup to return to growth and improve profitability amid the declining domestic direct selling market. This year, we will increase sales of LOHAS living appliances by training professional direct selling groups, developing success models, and diversifying sales channels focused on household cooking appliances. Also, for the SBU's competitive edge on living care products, it will develop a signature lineup and launch customized health functional foods based on analysis of personal health information.
<Pulmuone LOHAS (China) SBU> experienced year-on-year growth in 2019 thanks to the establishment of the three main platforms – sales agent, LOHAS house, and online shop – and the development of flagship products based on fermentation technology. In 2020, we will promote Pumeiduo's brand image as the company with the best fermentation technology by applying the technology to skin care category and strengthen its market competence by switching to local production in China. To ensure sustainable growth of the SBU, it will actively appoint new selling agent groups and train individual business owners (IBOs).
3)In 2019, Pulmuone's online business department established a master plan to form a new business structure by launching an integrated online mall and building an exclusive logistics center for external e-commerce clients. Now that we have proven our competitive advantage of our products online, we are planning to take further initiatives in the online market by focusing on our channel for external e-commerce sellers. With an integrated online mall and an integrated logistics center in the making, we are set to build a strong foundation for our business fundamentals. The goal of our business with e-commerce clients this year is a 67% or higher growth with KRW 50 billion or more in total sales, and the online business with existing customers will be operated with focus on ORGA brand's O2O channel and sales of Pulmuone Designed Meal. In addition, we have newly launched a smart vending machine for our "Untact Business" project to foster new growth.
4)The year of 2020 also marks the new beginning of Pulmuone's research and development (R&D) division. After 20 years of its Corporate Technology Office in Yonsei University at Sinchon, Seoul, Pulmuone is opening a new chapter by completing a research center in Osong, Cheongju.
The new research center, equipped with cutting-edge facilities and built in a spacious site in Osong Biopolis District in North Chungcheong Province with an investment of KRW 30 billion, will serve as the new frontline for Pulmuone's new product development, food safety control and quality management.
My fellow members of Pulmuone,
In order for Pulmuone to achieve our 2020 vision "Global New DP5," it is a necessary prerequisite to fully understand and keep up with emerging trends in the Fourth Industrial Revolution. Represented by Digital Transformation, the Fourth Industrial Revolution requires us to go beyond the boundaries of traditional business and evolve into a platform enterprise, and we must equip ourselves with digital and technological capabilities to cope with such subsequent changes.
Pulmuone is determined to find the new driver of growth and prepare for the digital environments of the future by providing more digital experience based on mobile apps and promoting innovation in operation and business activities. To this end, we are set to prioritize digitalization of our factories based on IoT smart technology, automation of our customer experience, and AI-based analysis of voice-of-customer (VoC) data.
Dear 10,000 Valued Members of Pulmuone,
Pulmuone's sustainable corporate management has been widely recognized both at home and abroad, and the company was awarded the Most Respected Company in Korea for the past 13 consecutive years in 2019. The Dow Jones Sustainability Indices have named Pulmuone as the 6th best global food company among 116 candidates, placing it among the top 10 for two years in a row. Pulmuone is also the nation's only food company to receive A+ level in ESG Evaluation, which is a national index of Korea Corporate Governance Service that tracks performance in non-financial factors such as governance structures, employees, partners, and environment. In the same year, which marks the 100th anniversary of the March 1 Declaration of Independence and the establishment of the Korean Provisional Government, Pulmuone was honored with the first presentation of the Yeongsuk Award, which commemorates the independence activist Seokyeong Lee who sacrificed his wealth and life for the nation's independence and practice of noblesse oblige.
In the new year, we will make the utmost efforts to continue the good momentum to achieve our corporate goals. I look forward to your dedication and commitment to taking part in Pulmuone's journey to realize the vision of Global New DP5 and become the global no.1 LOHAS company in 2019.
Happy New Year, and I sincerely wish you and your family the best health and happiness.
January 1st, 2020
Hyo-yul Lee
General CEO, Pulmuone